Every Friday I profile a speaker on my blog and invite them to share their experiences and insights with us. Please say hello to Maria Pantalone.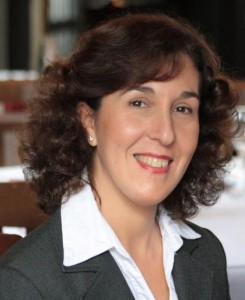 What topics do you speak on?
I speak on the importance of effective communication in business. My topics include the five steps to powerful presentations, how to communicate effectively with clients and colleagues and the importance of communication in leadership.
What tips do you have for beginner speakers who want to improve?
Some tips include:
Visualise yourself giving your speech – by visualising yourself doing well you internalise the success and your confidence increases.
Relax by taking some deep breaths – this helps to release tension in your muscles.
Practise, practise, practise – the more comfortable you feel with your speech and any visual aids that you may use, the more confident you will feel delivering your speech.
Above all, enjoy the experience!
Are you a member of speaking organisations?
I am a member of Toastmasters International. I also regularly attend the Professional Speakers Association meetings.
Have you written a book or created other related products?
I am currently writing a book which when completed will be a compilation of interviews with people who are leaders in their sphere of influence but may not be generally well-known. In the book, these inspirational people provide insights into leadership and share their wisdom and practical experience to help others in leadership roles or aspiring leaders.
How do you like to end your speech?
I like to leave people thinking about what I've covered in my presentation. I do this by linking my close back to my introduction and ending with an inspirational quote or call to action.
What speaking gigs do you have coming up in 2012?
I've recently presented at functions for organisations such as CPA Australian Women in Business and the Institute of Public Accountants, as well as emceeing the Western Sydney Business Connection major event business luncheon 'Infrastructure and Western Sydney' with the Hon Nick Greiner on 21 June.
How can people get in touch with you?
I can be contacted via:
Email: maria@infinitegrowth.com.au
Website: www.infinitegrowth.com.au
Facebook: www.facebook.com/infinitegrowth