In February'16 Alison Hardacre co-founder of HealthKit presented at the Brisbane Xero Mastermind meetup group. This is the written overview I was given about Healthkit which perhaps help explain it better than I can:
For practitioners, HealthKit is the first practice management software customized to any practitioner of any profession in any country in the world. HealthKit doesn't just reduce your administration – it removes it, so you can focus solely on patients. HealthKit is tailored specifically for sole, group and multi-disciplinary practices.
My primary interest is how Healthkit integrates with Xero. But there's a lot more to the solution that I had anticipated. Health is a team sport. As a patient you may see General Practice doctor, a Surgeon, an Anaesthetist and more. If they were all using Healthkit, and you gave them permission, they could share your data. Reducing the number of forms you fill out. Referral letters would be attached to your records. Each doctor can access your up to date health records; such as current prescriptions, blood test results over a period of time, and general health history. Enhancing access to accurate information should lead to improved diagnosis for the patient.
As a patient – you could actually seek out other Healthkit practitioners – so you knew they were able to access you up to date health records. Brilliant solution for travellers!
Healthkits big data may also lead to identifying need for doctor services in particular areas, or detect disease clusters. I realise some people are freaking out about the big brother implications. On the positive side real data, can be the catalyst to attracting needed resources. On the negative side, I imagine health insurance premiums could assess the information, and really sting people who will need to claim on their insurance.
I should add that Alison Hardacre told us that it only takes about ten minutes to learn the solution – which is promising.
Here are my take-aways regarding the Healthkit and Xero integration:
Integrating with Xero will help you gain visibility over your numbers and assist in compliance reporting. Currently Xero is the only online accounting solution that integrates with Healthkit.
Healthkit the practice management solution is free. You pay a percentage of the payment's received, so if the patient pays by cash, then you are pay nothing for the transaction.
Healthkit can split out into multiple Xero files. In a practice if they're multiple practitioners each with their own ABN number, the financial data can be split and pushed into their respective Xero files. This is HUGE. This is a massive time saver for anyone who's ever tried to unravel the hairball mess of splitting a single source of data into multiple files for the preparation of financial reports.
There's the option of anonymity – so patient names can be anonymous when they are pushed into Xero.
The screen connecting Healthkit and Xero data fields – sorry it's a bit blurry.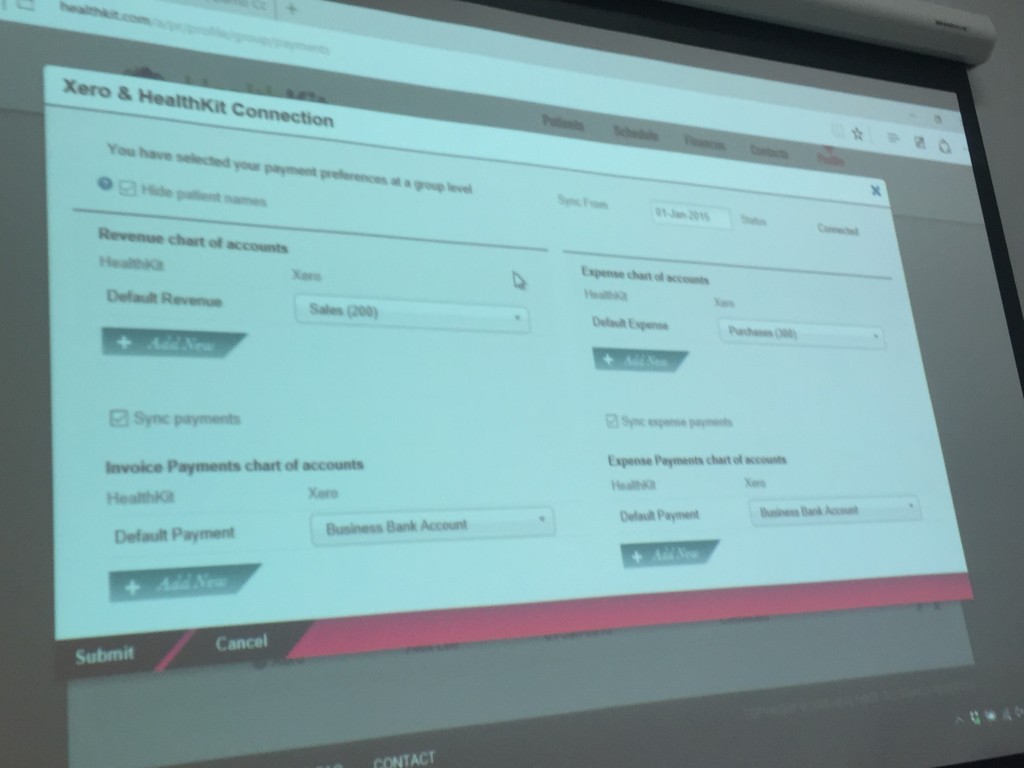 So you need to tell the Healthkit data where it should go into Xero. On the left side you can see Default Revenue, but notice under the line is an Add New button. So in Healthkit you could have multiple revenue streams, e.g service sales, product sales. This can be done for expenses and the payment options too.
If I was setting it up – I'd define the business revenue and expenses then I would customise Healthkit and Xero so expenses and revenue mirrored one another. This would help with your data analysis.
I would then make sure I identified and added each possible payment method in both solutions. For reconciliation purposes – you would really need to make sure you aligned the correct payment methods here.
With respect to payment methods, co-founder Alison Hardacre was quite excited that Xero had announced a Stripe integration. As a side note exploring payment options for your client is another way you can help them improve their cashflow.
CloudCounting just set up @Stripe with @Xero as a payment service – so easy! and 0.3% cheaper than Paypal. Took about five minutes.

— CloudCounting (@CloudCountingAU) February 5, 2016
HealthKit syncs automatically – so you don't need to push data across it just happens.
You can sync HealthKit to the Xero Demo Company file
During the presentation there were a number of people with deep knowledge of the healthcare industry in the room. The discussion turned to analyse how you sell Healthkit to a specialist or private practice. It was suggested that these healthcare professionals are not too concerned with improving their cash flow, or minimising their administrative burden. They also find asking for money in the form of payment – awkward and somewhat dirty. So when you're talking to a healthcare professional about Healthkit and Xero integration, pitch the process. Talk to them about the streamlined workflow, that comes from using the solution.
Here are the handouts that were given out in the session: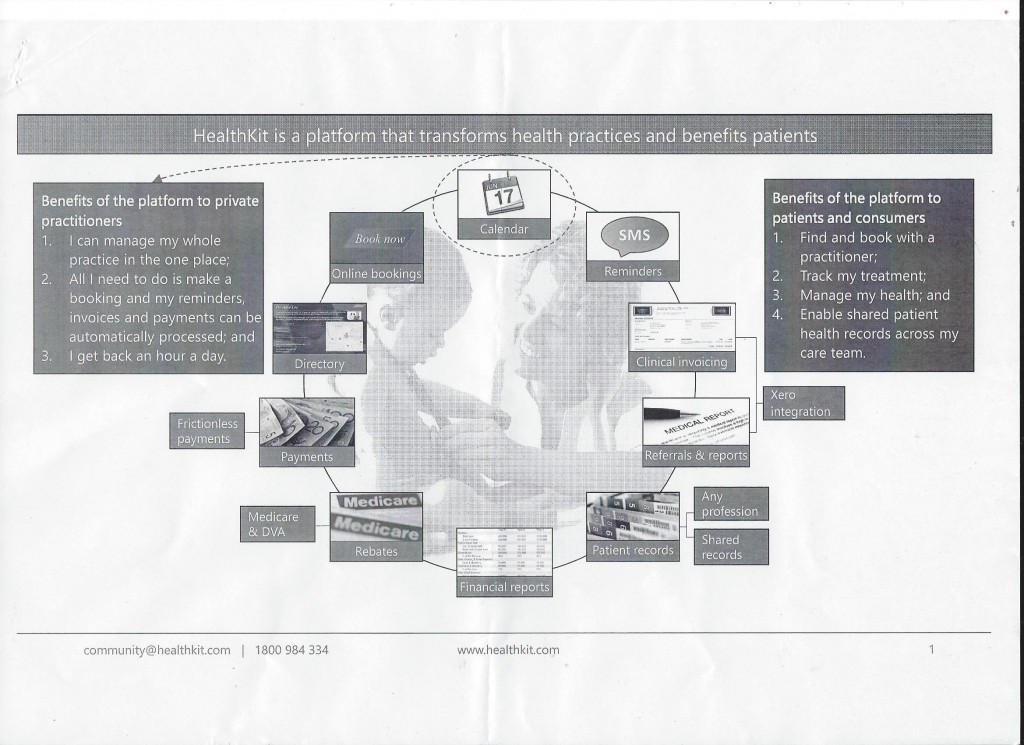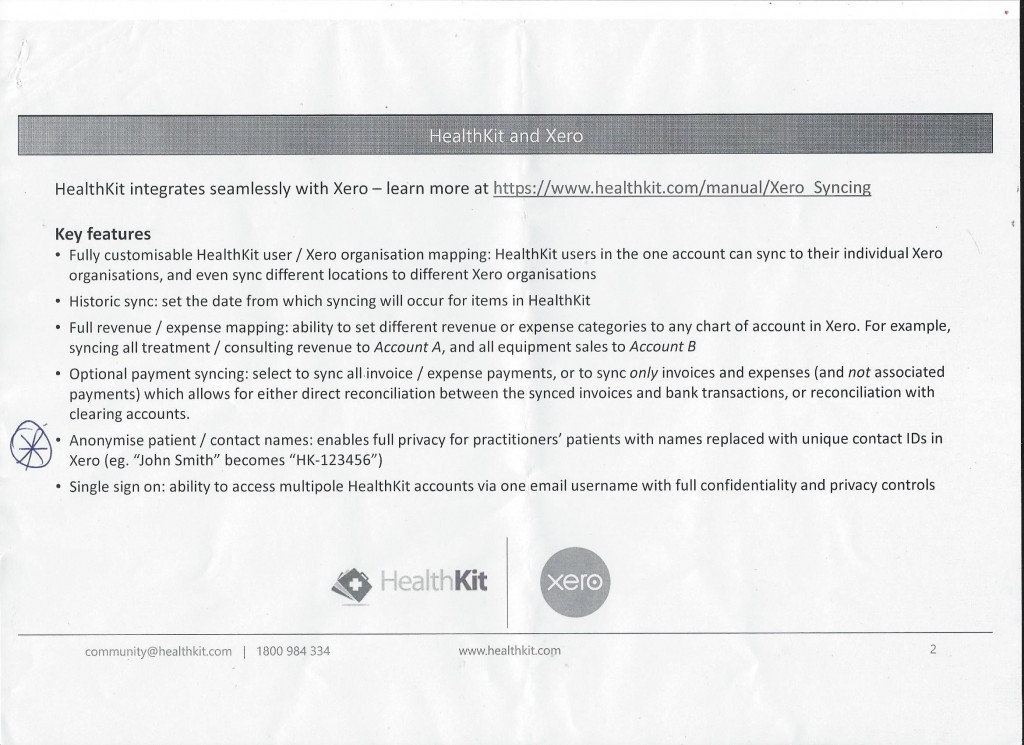 It was discussed that many health practitioners' receivables' were in a mess. An example was shared that an analysis of medicare rebates was undertaken on a business shortly after Xero and Healthkit was implemented. Ten thousand dollars in unclaimed rebates was uncovered. This does not surprise me in the least. A cash discovery of this magnitude pays for the full cost of the implementation plus a luxurious holiday to Fiji!
The number of users Healthkit is on-boarding is growing rapidly.
You can find out more about HealthKit here: https://www.healthkit.com
You can find out more about the HealthKit and Xero syncing here: https://www.healthkit.com/manual/Xero_Syncing
If online healthcare solutions interest you I suggest you also read: http://www.linkedin.com/pulse/three-connections-you-need-make-youre-xero-accountant-heather-smith?trk=prof-post
This presentation was given at the Xero Mastermind Meetup group held at River City Labs. Our meetings are an opportunity to learn about solutions that connect with Xero. It's free to join and the best way to keep informed of our upcoming events: http://www.meetup.com/Xero-Mastermind-Meetup/
Click here to contact me if you need assistance with your Xero and HealthKit integration.