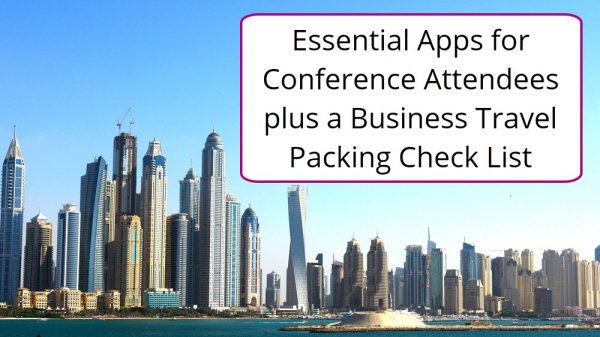 Here's my own personal favourite list of essential Apps and packing list for conference travel.
APPS
Expensify – for all of your reimbursable travel expenses plus it will organise your travel itinerary.
Receipt Bank – Scans your business bills and expenses, extracts summary information and pushes the data, and scanned document into your online accounting solution.
Minutedock – don't loose any billing hours while you are travelling! Tracks your time against client, task, or project, and pushes into your online accounting solution.
Podcast listening device – I'm on android and currently use CastBox but considering PocketCasts. Remember to download some podcast episodes from Top Accounting and Bookkeeping podcasts in preparation for your flights.
Destinations Public Transport App – according to Reddit for Sydney this is tripview
Google Maps
Plane App
Plane entertainment app
Uber
BUSINESS + NETWORKING
Business cards
Learn how to airdrop to share details
Notebook for trip
Pens + stationery
Print off any paper work you may need – e.g. presentation notes
TECHNOLOGY
Charged iPhone
Charger and cables
Earphones
Lap Top + Mouse
Powerpack
Selfie Stick
USB Stick
Presentation pointer
Targus Charger – a laptop charger with multiple interchangeable tips and you can access additional free compatible tips from them here.
TOILETRIES
Charcoal sponge
Charcoal tablets
Charcoal toothbrush
Dry hairspray
Volume powder
Emery board
Hair bands + bobby pins
Hair brush
Hair straightener
Lip balm
Lip pencil
Eye line pencil
Foundation
Eye powder
Make up remover
Moisturiser
Rescue nail polish (cause you should get your nails shellaced before you leave)
Tooth polish (smaller and less messy than tooth paste)
ShowerHat
HAND BAG
Have mini bags within main hand bag of different textures
Mini all-day make-up bag
Mini stationery bag
Small clutch for when you don't need the main hand-bag
FIRST AID
Band-aids
Berocca
Hand sanitiser
Panadol
Regular medication
Vitamins
Plastic bags – for anything that needs to be neatly separated
CLOTHING
Comfortable shoes + extra inner sole pads
Layers (check the weather forecast suggests it will be cold!)
Necklace
Pyjamas
Sunglasses + spectacles
SLEEP
Eye Mask
Ear Plugs
Sleep balm
Phone ahead and check they don't put feather pillows in your room – if your allergic!
TRAVEL
Plane Tickets – remember to forward to Expensify
Plane cushion
An extra bag option or express post bags in case the conference swag does not fit
a paperclip to swap sim cards if you are travelling Internationally.
Did I miss any?