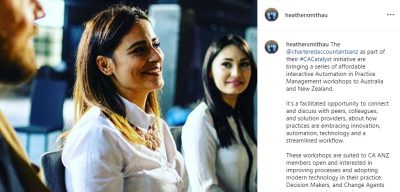 This is a project I've been working on for some time now, and I'm excited to launch it to the public. Words can't describe how elated I am to be able to work with the Chartered Accountants Australia and New Zealand on this project as part of their #CACatalyst initiative. I'm an Ambassador for their Innovation Agenda and together we have shaped these workshops that I believe will be really useful for many practices across ANZ.
The CA ANZ as part of their #CACatalyst initiative are bringing a series of affordable interactive Automation in Practice Management workshops to Australia and New Zealand.
It's a facilitated opportunity to connect and discuss with peers, colleagues, and solution providers, about how practices are embracing innovation, automation, technology and a streamlined workflow.
These workshops are suited to CA ANZ members open and interested in improving processes and adopting modern technology in their practice. Decision Makers, and Change Agents are encouraged to attend.
Be present for honest engaging collaborative co-created conversations to help on the journey of future proofing your practice. Hear how others are managing changes, improving efficiencies and recognising benefits both for their practice and their clients.
Expect to leave the workshops with insight and realistic activities you can roll out in your practice over the next 12 months and beyond.
There'll be no *key notes *hype* death by PowerPoint *boring bits*
Registration links below.
AU registration here.
NZ registration here.