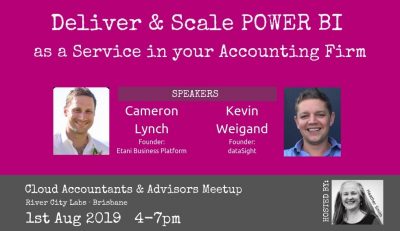 Learn how to provide Power BI interactive visualisations and business intelligence reporting with a dynamic interface that accounting staff can use to create their own reports and dashboards.
Host Heather Smith introduces speakers Cameron Lynch & Kevin Weigand, who will discuss the lessons they have learnt and demonstrate how to scale Power BI in your accounting firm.
Register here: https://www.meetup.com/Cloud-Accountants/events/262502176/
With a combined 7 years of delivering cutting edge #powerbi data solutions to practices and their clients, Etani Business Platform and dataSights are joining forces to share with you some real-life examples of how Power BI can benefit SME's and the various options to offering PowerBI-as-a-service in your practice.
In each real-life Power BI example you will discuss……..
*How providing this reporting will help your clients
*How it will help your practice
*How much time it can save you
*How this can easily be scaled to multiple clients
*We will demystify the Power BI black box;
*Explain Power BI's three modes – This is absolutely key to scaling to multiple clients
*Give you a background of BI and Power BI
*Head you in the right direction with simple steps to start implementing *Power BI in your accounting firm
SaaS solutions covered;
Xero MYOB QBO
PipeDrive
AskNicely
Kounta
Desktop software (non cloud software)
SimPro
Join us for this fun & informal catch up.
*****Food & drinks provided.*****
You can find out more about Cameron by listening to this podcast interview I did with him here: https://heathersmithsmallbusiness.com/2019/04/15/vote-1-for-the-power-bi-data-party/
He believes he can help businesses survive and prosper in today's disruptive environment. Cameron is experienced with Business Intelligence (BI), Analytics, Big Data and implementing cloud-based solutions to streamline reporting systems.Live data has a significant role to play in assisting businesses to make wiser decisions, both now and in the future. Cameron's passion is driven by the concept of creating vehicles to help businesses and individuals prosper.
Register here: https://www.meetup.com/Cloud-Accountants/events/262502176/