The ACCA and CA ANZ has developed a wealth of excellent resources for anyone interested in learning more about a Modern Accounting Practice.
Many thanks to Aleksandra Zaronina Head of SME Professional Insights who provided the framework for the following information.
Sign up here to receive their recently launched newsletter focused on the Small to Medium size practice.
Careers in SMPs report co-branded with CA ANZ. A comprehensive whitepaper developed through conducting more than 60 interviews with SMP practice leaders and employees from 20 countries highlighting the evolution and the opportunities of the modern Practice. I was grateful for the opportunity to share my story on page 34.
o   Video stories by SMP pacesetters covering various aspects of SMP transformation
I currently sit on the ACCA SME Global Forum and the ACCA Technology Forum.  Through my experience,  interest in this area, and participation in the forums,  I try to share learnings with the wider community. You can read about my journey into the digital world here and an interview about how I run my Practice here. Of course I suggest you sign up to my Accounting Apps focused newsletter too!
Here is the link to the ACCA ANZ Webinar I coordinated: Working in Practice in ANZ and the Importance of Embracing Modern Cloud Technology
https://attendee.gotowebinar.com/recording/198102717393876738.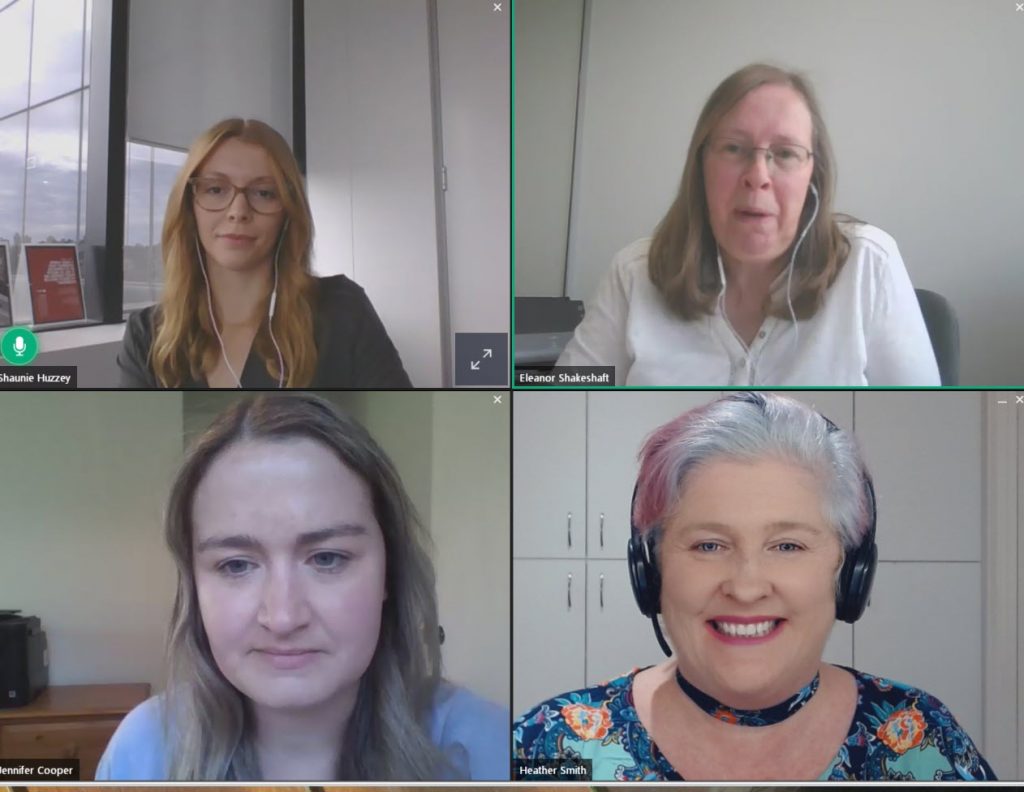 Host and panel co-ordinator Heather Smith, based in Brisbane, was joined by expert panellists from across Australia and New Zealand; Eleanor Shakeshaft from Currambine, WA, Shaunie Huzzey from Sydney, NSW and from across the pond, Jennifer Cooper Nelson, New Zealand. To complement this geographical spread, we had a diverse mix of practice experience from sole practitioners through to those working at the big end of town.
During this session, we uncovered:
        The journeys of starting, purchasing or joining a practice
        What a typical day looks like, working in or running a modern Practice.
        Key insights for members seeking to start their Practice or planning to join an SME Practice.
Key takeaways for members include:
        A broad and relevant understanding of the SME Practice environment in ANZ.
        An appreciation of career opportunities within the Practice sector.
        The impact of modern Cloud Accounting technology and how this can enhance your role in your future career.
Attendees remarked that it was one of the most useful ACCA webinars they've ever attended. They enjoyed the energy, the flow of the conversation, and the insights shared.
My own personal takeouts
🟥 CREATE your own opportunities – whether it be Start, Buy, or Join a practice
🟥Technology enables us to be management accountants for our CLIENTS and advise them in many different aspects of their business
🟥Through our vantage of the business landscape we can help clients form meaningful CONNECTIONS with other businesses
🟥Australia & New Zealand are leading the way in using innovative modern accounting technology
🟥ACCA is a global passport that enables us to travel and work in exciting places
CA ANZ Sharing Knowledge Series : Succeeding as a sole practitioner throughout the COVID-19 crisis (click on the image to watch the video)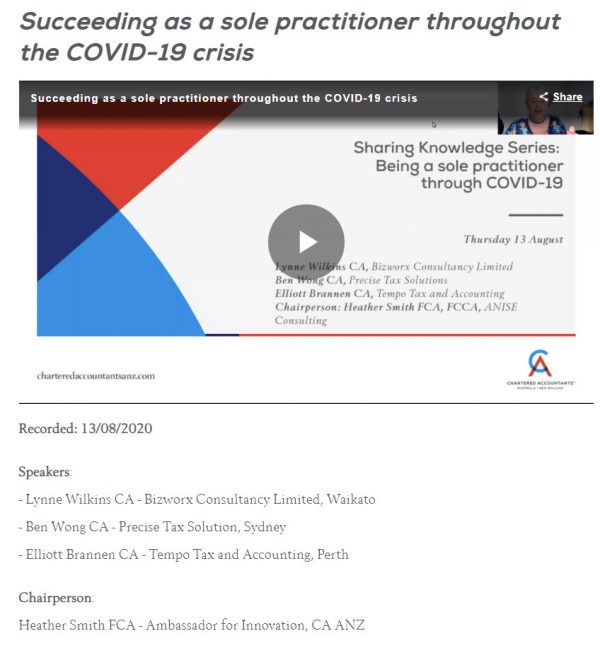 COVID-19 Sharing Knowledge Webinar Sessions: Australia Helping AU members navigate COVID-19 government responses and measures.