Minute Dock is an online Time Tracking solution
Minute Dock is an online Time Tracking solution, that syncs with Xero ideal for those who bill by time .Before using MinuteDock my desk and PC monitor where covered with post-it notes recording time I'd spent with clients.  Invoicing clients ended up being a time consuming process, which I'd dread. I'd sometimes spend more time, creating the invoice, than I did actually working with the client!
[Tweet "Read how @MinuteDock has increased my billing revenue & helped me grow my shoe collection"]
I've been using Minute Dock linked to Xero for a year and it's increased my billing revenue, and relieved the stress I had over organising and managing the records of time I spent working on clients activities. After understanding how the solution works, it has simply slotted into my natural business life. I estimate prior using Minute Dock I was probably losing about 90 minutes worth of billable client time a month – so effectively that extra money is helping me buy shoes! If you need more shoes – try it out!
The first step to setting up Minute Dock is syncing it to your Xero account. This imports customer contacts, currencies, tax rates and accounts from within Xero.
Note:  If you have contact details in Xero but have not actually billed them — Minute Dock does not seem to read them as customer contacts yet, so they need to be manually added. To manually add contacts is quite straightforward, on the menu bar click Contacts, click the green Add Contact button and fill out the Name, Email and Short code. The Short code normally ends up being the business address. For future reference if you start recording time against a new client you add them to Minute Dock first and then their details are pushed into Xero.
 Currently Minute Dock does not have an iPhone app, but this feature is on its development roadmap. Minute Dock includes a 'Dock some minutes' widget you can add to your browser tool bar — so you can just click to activate the time tracking feature without having the whole website open. (The widget is a visually a little boring — but does what it's supposed to do).
This is how I use Minute Dock.
The first stage is tracking time I spend on client activities:
I can work between 10 clients in a single day, stopping and starting activities as required. When I start working on client work I go to the Minute Dock bar across the top and I enter the Short code (Notice from the image above). In the screen shots you can see the Time tab is active — I selected this as a starting point to make it neat — however the tab doesn't need to be active for this to work. The Short code starts with an 'at' sign just like a twitter handle. So let's say I start doing work for James T Kirk, I would enter @JamesTKirk. As I start to enter the contact name, names are autosuggested, and I select the correct one. In the block I enter the task I am undertaking for the customer. I focus on using descriptions the client will understand, so they have a detailed appreciation of the work I have done for them. I use abbreviations where appropriate. As a lot of the work I do is done remotely, I try to fully explain the tasks that have been undertaken on their behalf. Then click the faded stop watch symbol so the timer starts.
Note:  I would like more visual space in the description area to write about the task I am undertaking. It allows for a large number of characters — however you cannot view all of them, so sometimes I have to write it elsewhere and paste it in — to ensure the work described makes sense.
I should also mention that you can set up regular tasks — these are defined by a hashtag — its all very social! So a task could be #PhoneCall or #Email. This is a quick way to describe a task, and invoice tasks can be grouped together if relevant.
Once the task is complete, I click the Log button on the right, and the tasks time is docked and drops into Todays completed task list. All the docked tasks are sitting in that list.
Note:  The day you undertake the activity is logged, but is not time stamped. #wishlist
If I need to edit the tracked time, I can click anywhere along the row, and all fields, date, customer, description, and time become editable. So if you forgot to track some time you can amend that field.
At the far right, the curved arrow allows you to redock your entry — if another client calls you can stop the clock — start it for the other client – and then return to the original client.
The green tick confirms you want to save the entry and the cross confirms the entry should be deleted.
The next stage is creating the invoice:
I bill on a Friday afternoon, it's a nice stress free activity for a Friday!
To start generating the invoice click on the invoice tab and at the top is a summary of all active clients and time billed against them.
If you click on the client button you have the opportunity to review tasks on invoice and group them by Task, Project, User, Description, Day Week, or no grouping. Play around with this to see what suits your needs.
Note: I had a several issues here when I first started. The first was it picked up an incorrect revenue account, and this was applied to all customers. There was no option to change it at a high level, so I had to manually change it every time I worked with a client in Minute Dock for the first time. It was a bizarre niggly issue, but once I have processed a client, they always pick up the correct billing line – something to watch out for and hopefully Minute Dock will fix.
The second issue was the hourly rate. I charge a set hourly rate, but it came through as $100, and so I needed to manually override $100 as well. Like the revenue account once it processed correctly it autocorrected itself. Neither of these poses an issue to me now, but were annoying in the early days of using Minute Dock.
The third issue was it defaulted to billing terms of 14 days, so like above, I had to override it for each customer until it learnt my business terms. I think all of these issues should have a default option that you can change via the set-up and I have mentioned this to minutedock support.
Review the invoice before you push it into Xero to make sure it actually makes sense, and you've included tasks that should be included and have not accidently associated another client's task with that invoice billing.
Once you're happy with the invoice, work through a wizard and push it into Xero. When the invoice appears in Xero, check that you're happy with the tax rate applied, and then issue the invoice to your client.
What happens if you leave the MinuteDock Timer running?
OK occasionally I forget I've activated Minute Dock and about 12 hours later along comes an email "Whoops, looks like you've left your timer running!" prompting me to scoot across to the Minute Dock dashboard and fix up my botched time tracking efforts – it happens to the best of us I guess!
A feature called "Client View' in Minute Dock enables clients access to a live timesheet so they can view all time tracked against them.
To offer 'Client View', click on the Contacts Tab, search for the relevant client, hover over the bottom right corner and an eye symbol will appear, tagged with the words 'client view'. Click 'client view' and the 'Send Link' window opens.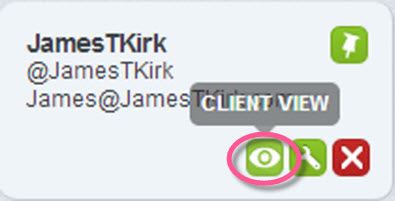 A customisable email is generated, customise it as you wish, and click the green send button at the bottom of the window.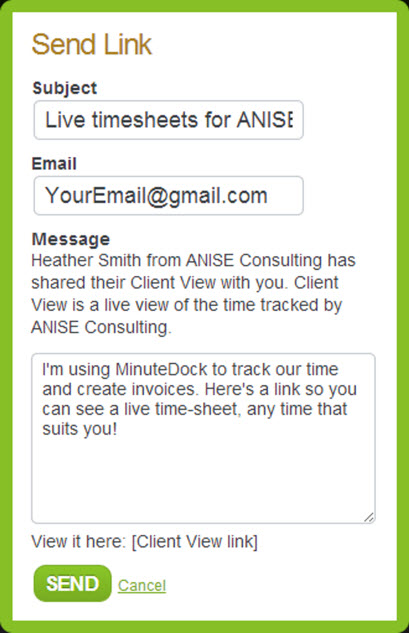 To view what client view on Minute Dock looks like click through on this link : https://minutedock.com/preview/214001 and then click on the TAB 'All Time'. If you send me a nice email I may be persuaded to add some 'Today' time so you can see some recent live data. 🙂
Minute Dock includes some other useful features which I have not yet explored;
Interactive visual dashboard of time logged, that can be defined by different criteria
The ability to set goals, and define projects.
Minute Dock starts at $12 per month, so if you bill $100 an hour and Minute Dock helps you capture an extra 7.2 billing minutes a month — it's paid for itself. Minute Dock offers a free 14 day trial.
There is another similar solution on the market Harvest at http://www.getharvest.com/ which I have heard good things about and it has an iPhone app but I have not yet had the opportunity to try it yet.
If you want assistance setting up Minute Dock please contact me using the contact form on my website. If you interested in finding out more about Minute Dock click here for a 10% discount https://minutedock.com/r/demo-minutedock-account11 – and please let them know you heard about it here!
Note: This post contains affiliate links