My speciality is engaging with modern forward thinking accountants and bookkeepers. With many years of industry experience, I've got the knowledge, expertise and credibility to amplify awareness, exploration and consideration of your business solution while helping you understand the nuances on needs of the professional community.
I've spoken at all the leading Australian Accounting conferences, participated in several International multi-city roadshows, from Darwin to New York! I'm an experienced facilitator, panel participant, workshop leaders and have lead the world's first and largest Cloud Accountants MeetUp group since 2015. I can help you deliver powerful, distinctive, valuable and educational writing/content to your existing and prospective clients. Through my authentic voice, I can bring different ideas, perspective and diversity to your content. I can enhance and validate your brand awareness, and broaden your reach by sharing content with the Accounting and Bookkeeping community I'm connected with. As a freelance business writer, I write in a chatty, personable and easy-to-understand manner on all matters small business. These can include cloud business, financial management, productivity and social media.
My content creation can include guest blog posts, article writing, product reviews, educational how to's, video creation, podcasts, social media account takeovers, campaign collaborations, social media blasts and giveaways. Content can be repurposed; a blog post, for example, can also appear in a newsletter, be shared via social media, converted into an infographic and discussed on a podcast!
This is where you can find me
Recent Media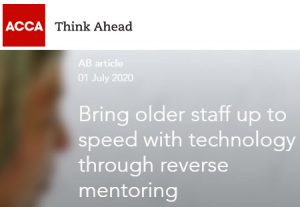 Bring older staff up to speed with technology through reverse mentoring. Based in Brisbane, Australia, Heather Smith FCCA, an adviser, speaker and expert in accounting apps and cloud solutions, is informally mentored by a number of young people. She believes she has been able to stay 'ahead of the technology curve' by 'listening to young people and hearing what they are using, and how they are using it'. She says: 'Receiving mentoring from someone younger than yourself can help you see the world through their eyes and help in communicating with their generation, embracing emerging technology and understanding social media platforms.'
---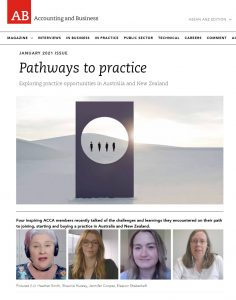 As someone who runs a 100% remote lifestyle practice, I was keen to showcase other ACCA members who were working in practice in Australia and New Zealand, and share how they had made it work for them. Pathways to practice is an article of the highlights of a recent ACCA Australia and New Zealand webinar featuring Shaunie Huzzey ACCA, Jennifer Cooper CPA FCCA, and Eleanor Shakeshaft FCCA. Their stories include moving to another country and starting or purchasing a small practice. The article links to the webinar on the same topic. One common theme, is we all utilise cloud technology, enabling collaborative access to timely, clean data for informed-decision making that's affordable to SME clients.
---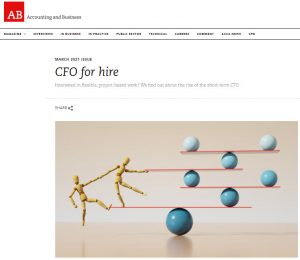 CFO for hire : The AB Magazine explores the benefits of the gig economy for the financial professional. Benefits of gig working for the financial professional include: Freedom to choose your own hours, Variety of interesting work, You don't have all your eggs in one basket, Satisfaction of supporting a client who could not afford full-time support.
Benefits for the client include: Expert, affordable qualified support on call, Access to experts who have exposure to multiple businesses, Bringing a broader perspective and experiences to SMEs, Avoids additional employee costs.

On the Public accountant
Addressing clients' fear of the cloud
More than regurgitating the facts
Advice for setting up shop
Advocacy, Ambassador, Brands, Champion, Mentor, Partnerships, Relationships, Supporters
As a  professional, I recognise the importance of remaining agnostic. As an expert, I aim to curate technical resources that help the accounting and bookkeeping community achieve the best outcome for them, rather than a product or service I have a material connection with. In the interests of disclosure and transparency I'm sharing with you businesses I may have a material connection with. They may have provided me with gifts (books, gift bag, swag), payments in kind (event tickets, free product access), or monetary payments ($$) in recent years.
Please read my full Endorsement Disclosure here.
Cloud accountants and advisors meetup
I facilitate a meet-up group that explores the features, benefits, integration and inner workings of various cloud or SaaS solutions. We look at everything from horizontal or generic solutions that suit all businesses, to a vertical or industry-specific solution suited to a niche industry. Join accountants, bookkeepers, developers and business owners on the first Thursday of every month at Brisbane RiverCityLabs.
Online discussion group
I facilitate an advanced online discussion group for over 2800 experienced Cloud Advisors and Partner solutions. Cloud business problems are shared and discussed with a global group of experts. Partner solutions share educational events, feature updates and connect with potential beta testers.
Podcast
The 'Cloud Stories' podcast shares stories of people operating in the cloud community – including developers, cloud integrators, end-users, solution providers and business consultants. Together we share a 360-degree insight into this evolving business phenomenon. Listeners can pick up tips, tools and tactics from stories shared, and we gain a deeper understanding of how people are using cloud solutions and, in turn, can effectively and efficiently use this new-found knowledge in our own businesses. All of which is why 'Cloud Stories' has been described as the coolest accounting podcast ever!
Businesses use the podcast as part of training material for staff, and it counts as CPD. Read more below.
Speaking & Presentations
I've been described as the beacon of the cloud accounting industry… If you've enjoyed reading one of my international best-selling business books about moving your business to the clouds, then consider booking me to speak at your next business function, and let the stories come to life. I curate and deliver key information to you in a digestible format. I also take great pride in providing professional training sessions that cater to all levels and abilities. My talks are brimming with useful information, stories and practical tips. Through consulting, training and interviewing, I've had the privilege of working with thousands of business owners, assisting them in implementing profitable and productive systems. From this vantage, I've gained insights I can share with you into the inner workings of small businesses.
Sample presentation styles include the following:
Conference, boardroom, retreats or professional development sessions
Presentations ranging from 20 minutes to 2 hours, plus Q&A from the floor
Panel participation
Speeches on a given topic, from 5 to 30 minutes, and interaction with other panellists and attendees
All presentations can be adapted to webinar format.
Clients I have presented with
Previous clients include NAB National Small Business Summit, National Speakers Association, Association of Chartered Certified Accountants AU & NZ, Australian Institute of Interpreters and Translators QLD Workshop, Deloitte's, Practice Success Summit, Young Entrepreneurs Australia, Networx, Sociability Conference, Business Educators Association Queensland State Conference, Flying Solo Live, Active Management, Dickensons Accountants, Pitcher Partners and iCalm.
Speakers Bio: Heather's focused on helping cloud advisors positively embrace the add on market place eco system. Using her super power of 'explanation' she's provided support to over 1 million, via her instructional YouTube channel 'ANISE Consulting', her Cloud Stories podcast exploring the eco-system, a monthly MeetUp, an online MasterMind group, and a curated eco-system newsletter. Plus, she's written 9 business books including the Xero for Dummies series. Heather believes advisors can work from anywhere, and support clients anywhere, by honing their ability to offer services online. (100 word)
What is Content marketing?
Content marketing is the creation and distribution of useful, intelligent, thought-provoking, engaging and informative content. It's communicating with your existing and prospective customers without overt selling. Content marketing solves problems, educates and informs, helping develop long-term relationships and brand awareness.
Article on  Influencer Marketing
New guidance launched for  social influencers