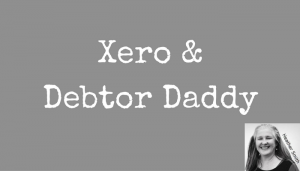 I was interested in trying out a cloud based debtor tracking systems as cash flow is critical for the survival of a small business and chasing outstanding invoices is time consuming and something I least like about running a business.
I signed up to the Xero approved add-on debtor tracking solution Debtor Daddy. The whippet package is $29 NZD per month, and there is a 30 day free trial. I've been using it for several months now, and you'll be pleased to know I have not grown a moustache!
Debtor Daddy connects with Xero identifies invoices coming due for payment, or that are overdue, and sends emails to clients to remind their very lovely accounts payable officer the invoice is still owing. The solution relies on you entering correct invoice data and contact details in XERO and reconciling payments received on a timely basis.
Debtor Daddy connects and syncs quickly with Xero and the set-up is intuitive.
The solution basically consists of only five emails; the first email is a reminder sent out automatically prior to the due date. The remaining four emails are sent once the bill becomes overdue. As you'd expect, once payment has been receipted in Xero, Debtor Daddy recognises that emails no longer need to be sent out. So if you're using Xero and Debtor Daddy, you need to be actively reconciling daily, otherwise you may be inadvertently sending out unwarranted reminders. This may upset the relationship with your client.
The email's suggested script is pre-written. I was quite comfortable with the professionalism yet friendly tone of the script. This was important to me – I'm not the type to scream at someone if they owe me money. I appreciate prompt payment but I also appreciate life in a small business is not always as you expect it to be. I easily added a few of my own personal touches to the email script, including my business logo. I even asked my clients what they thought of the automated debt collection system and cheekily suggested if they did want to try it themselves I could set it up for them.
You can opt for individual clients not to receive email reminders.
[Tweet "So I set it up @DebtorDaddy in about 20 minutes, and the money started rolling in!!!"]
Next I received a notification email from Debtor Daddy.
Prior to reminder emails being automatically sent to clients – you receive an email detailing all clients who'll get a reminder the next day. I really liked this as it prompted me to quickly reflect over clients and invoices. It reminded me to reconcile any payments receipted in Xero, but I was on top of this! It also gave me a lot of confidence in using the system. Emails are not blindly catapult into the yonder. I know who will get what. The notification email also allows you to deselect clients from receiving a reminder.
A client who I'd already suspected had lost my invoice, emailed to say what invoice? They had received notification from Debtor Daddy  an invoice was due for payment. The notification they receive doesn't include the Xero Invoice reference field which is where I enter the purchase order. So I had to go into Xero to retrieve further details about the invoice. To avoid this in future I'll try to remember to add the purchase order number to the description on the invoice in Xero. I think clients would then have all the information they need from the Debtor Daddy email reminder.
Note: A few months after using Debtor Daddy a client after receiving a reminder emailed to say 'The invoice was paid on …". Hmmm OK I'll check, and we got to the bottom of it, payment was made, but there was a typo with the account number. So we were able to quickly identify the payment had bounced back, and needed to be made again. Without using Debtor Daddy's reminder system, it could have been weeks before we both realised there was a problem – delaying my payment.
The other thing that happened that I did not anticipate, was that the emails from Debtor Daddy say:
Hi <First Name field of my Xero Contact>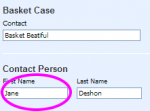 I have not been able to work out how to change this yet. Firstly I would never send a professional email to a client and start with 'Hi'. Secondly the Name field of my Xero contacts is the person I typically arrange the sale with not the person who pays the bills, so I would need to amend this field for Debtor Daddy to work with minimal input from me. It would probably be useful for Xero to have more name fields in the contact card, but that would take it away from its purpose of being an accounting solution.
Another client highlighted an issue. All original invoices need to be sent to him for approval – but after that reminders regarding the invoice would be more effective if they went to accounts, as the approver does not need to see them again. It would be useful if both Xero and Debtor Daddy had a few more well defined contact information, primary contact & secondary contact, or approver and accounts. I think this scenario is quite typical don't you?
Another minor point to highlight. If you changed the expected date of the invoice in Xero, it did not seem to recognise it in Debtor Daddy.

Support
Debtor Daddy were responsive to my questions. Initially their emails hit my spam folder. Frustrating for me – but not their fault!! I suspect it hit the spam folder because their responses contain lots of images? Debtor Daddy use zendesk as a support response system. During the time I was reviewing the system, I did not have the strongest internet connection and the emails were imagy/blocky and hard to follow. I did ask for them to reply in text only. I wonder if this is an issue for others? I've used the system for months now and the Debtor Daddy support team have always had a fast support turnaround.
 Nice to have
I'd like to have control over the time the client receives the email reminder. The time an email arrives in an in-box can affect the response of the recipient. I initially opted to send out reminders every 4 days – but I realised this meant emails would arrive during the weekend – so reverted back to the 7 day default. Following on from this, it would have been nice to have the option not to send out on weekends or even non-business hours.
I'd also like settings to recognise my business hours, so email reminders are only sent out during business hours.
 Here is where you'll find Debtor Daddy:  www.debtordaddy.com
If you want assistance setting up Debtor Daddy please contact me using the contact form on my website. If you sign up to Debtor Daddy after reading this review – please let them know you heard about it here!
If you're a consultant, and you want to add a Xero client to the Debtor Daddy dashboard, and set them up with Debtor Daddy debt management solution, the process is quite simple.
Click on the "Create Account" button on the right side.

Then you're taken to authorise the application. Choose your client and click the green button labelled Authorise

At the next step, you're given the option to invite the business owner into manage their solution, and take responsibility for the subscription. The clients new Debtor Daddy dashboard is defaulted to Automatic Chasing OFF – which is good. The client has the time to familiarise themselves with Debtor Daddy dashboard, before reminders start being sent out.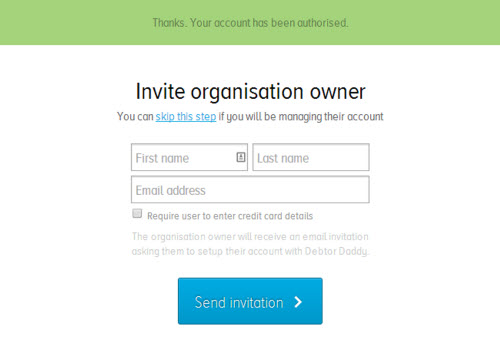 From a cloud consultants perspective, this process was  sleek, took about 90 seconds, and a nice value add service for my clients.
If you found this article useful please share it:
[Tweet "Read about @Xero and debt management solution @DebtorDaddy via @HeatherSmithAU"]