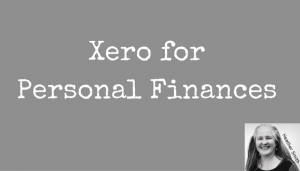 Yes! You can use Xero cashbooks for your personal finances.  Xero cashbooks has bank feed options, spend and receive money, and has the look and feel of the business version of Xero so it's easy to use! As you would expect it does not include payroll or inventory, or the ability to raise invoices or bills. It does have the simplicity needed for running personal finances. Furthermore you can rely on Xero cashbooks to assist in the management of shares and property portfolios.
The following may be of interest to Financial Advisors as well as those wanting to DIY and manage their own finances, If your finances are a little more complicated there are some add-on solutions in the Xero ecosystem worth taking a look at.
[Tweet "The ultimate combination to manage personal finances @Xero cashbooks + @PocketRent + @Sharesight #Xero "]
SHARES & Xero CashBook
Shares are a little complicated with franking dividends and the like… Sharesight is  a cloud based solution that manages shares and integrates with Xero.  The pricing for a single portfolio of 10 holdings is free – so its worth trying it out. I've not personally used it but I have heard lots of good things about the Sharesight and Xero integration solution. Also it only seems to take a few minutes to set-up.
I also suggested installing an app on your iPhone for monitoring daily stock movement. We personally use STOCKWATCH. It was around $2 and once set up, lists all our shares with either a red or green block highlighting daily movement. Its super easy to set-up. It has the 'I can check my stocks while in a queue' stamp of approval. Anything that makes monitoring personal finances easy is good! (This does not integrate with Xero)
RESIDENTIAL INVESTMENT PROPERTIES & Xero CashBooks
The Xero tracking feature can be set-up to easily tack spending against different investment properties, or you can invest in the add-on solution PocketRent which can comprehensively manage rental properties.
I wish Xero cashbook had a big fat hairy colourful expenditure pie chart – but it has so many other features that suit your personal requirements and can assist in managing and budgeting for your personal finances.
If you're a Financial Advisor you should also take a look at FathomHQ and Spotlight and introduce yourself to Matthew Prouse the Senior Account Manager at @Xero for Financial Advisors.
[Tweet "G'day @MatthewProuse I'm a Financial Advisor & @HeatherSmithAU says I should connect with U!"]
FathomHQ is an amazing comparative tool. You can compare all of your client performances, set KPI's, benchmarks, analysis and proactively advise your clients  in a single spot. FathomHQ is a local Brisbane business co-founded by David Watson, Geoff Cook and Daniel Walls doing great things globally. I absolutely love their tool – its so insightful!
If you're interested in Xero Cashbook to manage your own finances – please get in contact. To keep it as cheap as possible I offer a no-frills set-up, and hand it over to you to customise to your liking. This is not my core business, so I don't interfere with what you're doing. I'm here to help if you need, but essentially I'm facilitating your access to this product offering.
Further reading:
Here is a link to a detailed article I contributed to on Pete Williams Preneur site :  it talks about PocketSmith an alternative option to Xero Personal the phased out product. Xero is actively supporting this migration, and there is a seamless migration path.
Here is a link to the Xero blog about Financial Advisors using Xero.
Here is a link to a FREE course Xero's running for Financial Advisors: Intro to Xero Cashbook for Financial Advisors (Online) (let me know when this link no longer works.)