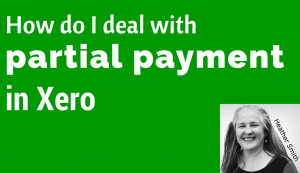 What has happened in this scenario is $ 2,000 has perhaps been deposited into the bank account. But the actual invoice in is $ 10,000 – I have received a partial payment of $2000. So what I need to do is apply that $ 2,000 to the $10,000 invoice and reduce that invoice into an outstanding amount of $ 8,000.
To do this, what I need to do is locate the partial payment, select the find and match option, select the matching transaction and then select the reconcile button. I'm here in Xero in the reconciliation area and on the left-hand side; I've received $ 2,000 from Jakaranda Maple Systems. So what I would do is go and have a look at the invoice that I can apply that against. So I come over to the right-hand side here and click on find and match. Now I have the options down here to search by name, reference number or search by amount.
Now, it's pointless in searching by amount because this is a partial payment. But I could type in here, 'Jakaranda' if I needed to, and that would come out with one option there. You can see that I have an invoice for $ 10, 000. I come over to the left-hand side and select the invoice and I'm applying the $ 2,000 to the invoice. Across here it says split; and if I click on split, the $2,000 has been applied to the $10,000. And I recognised the split has been applied by clicking the green button. And that has come up here; matching up there has been reconciled.
And you'll notice down here its recognising that $ 8,000 is remaining outstanding against Jakaranda Maple System's invoice. And I'm going to come up here and click OK to reconcile and then you have it.
So this is How you deal with partial payment in Xero…