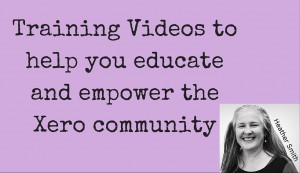 I'm excited to let you know I've been working with the phenomenal Xero U team – to produce educational videos. Drawing on my inner Steven Spielberg I've been writing scripts, recording audio and capturing screen demonstrations. Then I package it up and the extraordinary team at Xero U take my creation and magically tweak it till a beautiful Xero training video appears online at Xero U.
If you've experienced my work — you'll know I'm a straight talker who crams content and insights into every nook and cranny.
Over the last fifteen years I've taught small business accounting systems face to face to over 1000 people; university students, the long term unemployed, small business owners, staff, accountants, bookkeepers — and many with a case of the highly contagious Arithmophobia  —  fear of numbers. This experience combined with way to many accounting qualifications, a decade of consulting, and thirty-two years of learning and working in this space means I know what works. I know how to explain this subject to anyone who wants to listen, or watch videos, or read books…
I love to learn and I think everyone will learn something from these videos — even the beginner topics may shine a light on a new area for you — enhancing your understanding and ability to work and consult in this area.
I suggest you set up a daily calendar reminder — and put aside fifteen minutes every day to watch another video from Xero U and learn about small business accounting, cloud technology and Xero. Some of them are short — so importantly you'll also have time to catch up with the latest viral cat video. Some of them are longer — so brew a pot of English tea, settle in, relax and learn!
A cat video for your entertainment.
If you find yourself needing to explain these topics to your clients – listen to the videos and use the words and phrases to assist you. Or better still suggest to your clients they watch these videos. Link to the videos from your website, drip feed them through your newsletter — be a champion and educate and empowering the Xero community.
I'm not here to make a living I'm here to make a difference pic.twitter.com/gJq4ov5dZL

— Lisa Martin (@GoFi8ure) March 11, 2015
I absolutely love the opportunity to create these videos and share them with the Xero community. You can watch them all here: https://www.xero.com/training/
or click on the blocks below to see the ones I've created: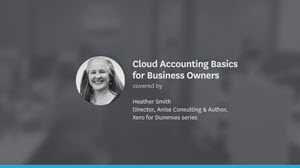 This is about YOU so if there's training you'd like to see developed via these videos — let me know via the comments below.
If you LOVE LOVE LOVE watching the videos — fill out the feedback at the end of the show and let the Xero U team know why you love them!