I was lucky enough to attend a preview screening of Boy Choir at Palace Centro. Before the movie started we visited Tinderbox for dinner and enjoyed an amazing cauliflower salad and artichoke pizza to die for. We will definitely be back.
BoyChoir has an stellar ensemble. Everyone is talented, and can act, so you'd expect a superior film. Unfortunately though — the storyline was more sugary sweet than a Disney movie. If it dropped down a bit from its serious level, it could have been quite a funny movie. If the story was believable and stepped it up a notch, it could have been another Billy Elliot. Instead it was a cliché catastrophe. Yikes!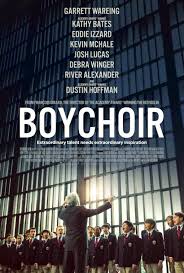 Dustin Hoffman — Tootise you were supreme. You came to the movie set and delivered a mesmerising, faultless performance. Every scene you were in WAS believable. However mate – was it realistic that headmistress Ms Steel was going to push her student 'a troubled and angry boy' into a career that was only lasted a few years 'until his voice broke?'. Seriously?
Lesson Learnt: a few talented people cannot carry the team across the finish line, everyone has to work together, delivering the highest level of quality and professionalism.
Kevin McHale — I love you! As Wooly (stupid name) you delivered a warm supportive character. Bit disappointing there was no singing or razzamatazz — but you can walk! It's a miracle. I'm pleased you've bounced from Glee into a comfortable role. Next role I think you'll need to stretch yourself a little more & we all know you've got it in you!
Lesson Learnt: viewers like clients like the comfort of consistency. Don't feel like you need to keep changing and improving your offerings. It's OK to refine your offerings – but why does Australia Post keep trying to sell me overseas money orders, or set-up digital mail boxes. I want Australia Post to take my mail and deliver it securely, at a reasonable price, in a timely manner. Just give me what I want and I'll be happy.
Debra Winger — long-time no see; I spent most of the movie thinking you were Joan Cusack reminiscent of her role in with Jack Black in School of Rock. I love that movie and can watch it repeatedly. Debra I think a lot of the implausible plot centred around your character – and as a creative you've got to fight for quality. Maybe you thought well the rest of the team is so accomplished – my part must be OK. But it wasn't. Maybe you could have sat down with the writer over a glass of Chardonnay and brainstormed how you were going to get Stet into the American Boys Choir – because the route you took laid a flimsy foundation for the movie.
Lesson Learnt: take responsibility for your own area and your own delivery. Deliver the highest quality you can, and if people stand in your way — you need to take stock and strategize how to involve other people in the ownership of delivery. Talk, share stories, mind map, show them better options – it is time consuming but will be worth it in the end.
Josh Lucas — what were you thinking? Seriously mate — was there anything conceivably believable about your character? You're a mega rich hunk with a photo shopped beautiful family and you reject your own gifted son. What part of that was believable? I get that it must have been exciting to be in a film with Dustin Hoffman and maybe you'd have happily taken any role. But mate you did Red Dog – remember that awesome lovable film. Even though it was a true story it was completely unbelievable – but you owned it and you delivered it. You could have been the bow on top of this film, you could have wrapped it all up, but instead it was left wanting. Step up mate.
Lesson Learnt: never think your contribution to the whole story is not important.
Don't let me stop you seeing this movie. I did learn about the strange world of boy choirs, and I did shed a tear or too. The movie in general has been well received – so hopefully you'll like it.
If you saw Boy Choir what did you think?