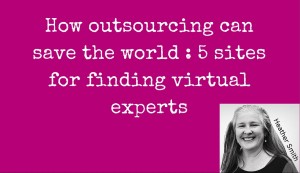 If you're open to the concept of a virtual outsourcing, and want to find an expert or sell your own expertise here are five online marketplaces you can turn to:
Australian outsourcing expert James Shranko suggests once you've found an expert you work well with, navigate working with the virtual resource directly rather than through a website matcher.
I'm a big fan a using experts for specific tasks and jobs. I also like the opportunity to put money into the hands of female workers in developing countries. I think it gives them the opportunity to be independent, and help with the education of their children.  I would rather give someone money for using their brain, then give them a handout, if it's possible. Of course charity does have its place.
Do you outsource tasks to virtual support?