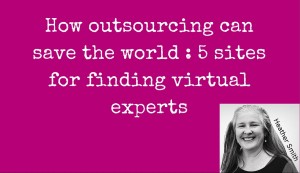 If you're open to the concept of a virtual outsourcing, and want to find an expert or sell your own expertise here are five online marketplaces you can turn to:
Elance: Reportedly you can access over 2 million skilled freelancers and find freelance jobs from around the world. It's free to join, post jobs, and review the candidates. Elance adds an 8.75% fee to the bid. Note: Elance is now an Upwork company. https://www.elance.com/.
Fiverr: I've been a big fan of Fiverr since Tim Reid of Small Business Big Marketing had a period where he kept raving about it. I've personally used it for audio, and design work. Essentially the basic gigs are supposed to cost $5, but once you have additional requirements you may find you are paying a bit more – but it's still excellent value. Use this link to get a free gig on Fiverr https://www.fiverr.com/s2/0fcdc90a45
Freelancer is an Australian company, founded by Matt Barrie. I was a member for a long time, but never really used it. Today looking at the site for this article – it looks slick! https://www.freelancer.com.au/ (AL)
Gigster is specifically for hiring a development team of product managers and software developers. Fancy co-ordinating the development of an app?!? https://www.trygigster.com/
Upwork: Elance and Odesk combined to become Upwork. Elance still has its own website and it seems to be suggesting it's more geared towards larger virtual teams. I've been using Odesk which morphed into an Upwork site since 2009 for web design projects and research projects. https://www.upwork.com
Australian outsourcing expert James Shranko suggests once you've found an expert you work well with, navigate working with the virtual resource directly rather than through a website matcher.
I'm a big fan a using experts for specific tasks and jobs. I also like the opportunity to put money into the hands of female workers in developing countries. I think it gives them the opportunity to be independent, and help with the education of their children.  I would rather give someone money for using their brain, then give them a handout, if it's possible. Of course charity does have its place.
Do you outsource tasks to virtual support?