During May 2019 I am travelling across the USA, on a Listening, Learning and Talking tour of the USA. Don't worry I'm not planning to embellish my LinkedIn profile to read "International Speaker". I'm tickled pink to be here and soak in everything I possibly can, develop some deep connections of the landscape and in turn share it with the global accounting community.
Listening, and Learning in the USA.
As I travel I will update my observations.
I've noticed a lot of friction around the POS – the point of sale.
For payments I have Google Pay and a Credit Card. In Australia I primarily use Google Pay, and very rarely get out a Credit Card to make payment.
In the last few days I've been to Los Angeles, Atlanta, and now Houston. I have made small, under $100 purchases in all cities.
I've been able to use Google Pay once, and even though the payment was small, I needed to enter my pin number. In Australia I only need a pin number for payments over AU$100.
I've been asked to show ID, when using a credit card. (Can't remember the last time that happened)
I've been asked to sign for payment, perhaps this was so they could take a tip? Again, can't remember the last time this happened.
It may be that my credit cards are Australian, but they are ANZ travel cards with the main intention of being used for travelling.
The POS payments process is minutes, rather than seconds it would be for me in Australia.
Heather Smith Talking Tour of the USA
Talking – Houston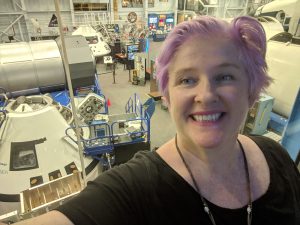 Initially I stopped in Texas. Almost as soon as I arrived, I was fortunate to have an awesome friend who took me to tour the Space Centre Houston. This is a operational working facility, with areas that the public can access. As we started a the bus tour of the NASA campus I saw an alligator – just sitting in the creek doing what alligators do. I was in shock about this – but everyone else seemed quite nonchalant. One of the areas that you can visit on the tour is the control room that sent the rocket that landed on the moon fifty years ago, just a few months after I was born. They were renovating it back to how it was in '69, to commemorate this event. There are a number of rocket ships that you can get quite close to, even going inside a replica space shuttle. The size of the rocket ships that we were able to send into space is incredible
I find everything at the Space Centre amazing and exciting. But what is really amazing is that the people of Houston don't really appreciate how amazing it is to be able to access this incredible facility. Many I spoke with had not been in over a decade. I've now been twice, and there were many new things to look at and experience the second time around – the gift shop alone is worth the visit! It is so easy not to be appreciative of what you can access everyday. For me and my short time in Houston, re-visiting the Space Centre Houston was the main thing I wanted to do. Don't miss great stuff just cause it is within easy access.
I also spotted inspirational quotes about pioneers at the Space Centre which I thought appropriately wrapped up my reason for visiting the USA.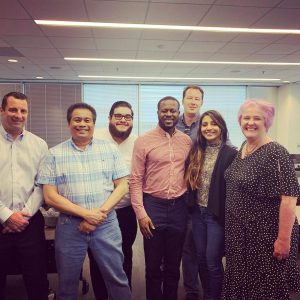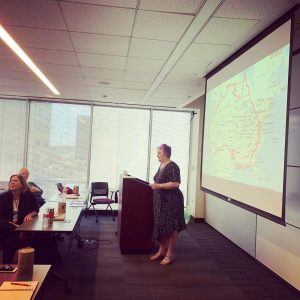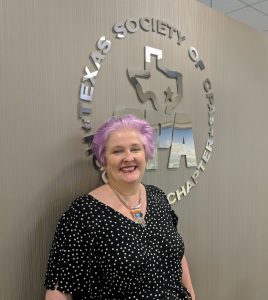 While in Houston I gave a Xero sponsored breakfast talk at the Houston CPA Society office "Leverage Cloud Accounting to empower your Accounting Practice". It was an opportunity  to share what I saw happening in Australia, and share my insights about cloud Advisory tools. I connected with many accountants and bookkeepers on their Cloud Journey. One of the attendees said that he learnt more in one hour than he had in ten years – wow! I think I made him repeat his kind words many times. Another one told me that they were an accountant who really loved the technical aspect of connecting tools, I was able to explain, while niche there was a real demand for these skills, and that he should let other accounting practices know what he could do for them.
You can see in the images – a slide I liked sharing of Australia placed across the USA – which always surprises people that our country is so vast! Though more people live in Texas than they in Australia!
The other thing that amused me was they served StarBucks coffee in wine cartons!
Many thanks to Jackeline Velez, Bjorn Monsson, Brad Gustafso, Daniel Gallagher and AICPA for organising this event.
"Imagination will often carry us to worlds that never were. But without it, we go nowhere." Carl Sagan, astrophysicist
Talking – New Orleans
I was invited to join an intimate Accounting Salon in New Orleans led by Amanda Aguillard (Xero Ambassador) and David Leary (David was a 21 year veteran at Intuit as the Ecosystem Evangelist). This was a group of 37 of the best US and Canadian modern Accounting Thought Leaders (or Activators). I was the first Australian to join the cohort – and felt privileged and grateful for this opportunity to meet and learn from accountants from all over North America. From solo practitioners to large practices.  I personally feel attending an intimate event with 37 people is less overwhelming than a monster conference.
I appreciated the opportunity of meeting people in real life, that I have connected with over the internet for many years that I can learn from.
Many thanks to Amanda Aguillard and David Leary and everyone else who has contributed to organising this event.
We gathered in New Orleans for four days and discussed modern accounting issues and challenges and heard presentations from various members and technology providers. We also participated in various content creation sessions, such as Accountants reading mean tweets ->

More content will be coming out over the next few months.
They even gave me a check and sent me off in the wilderness to try and work out what to do with it…
I gave a presentation on the Australian Accounting landscape waving the Aussie flag and shared Time Tams with the cohort.
"Discovery consists of seeing what everybody has seen and thinking what nobody has thought" Albert von Szent Gyorgy, physiologist, recipient of 1937 Nobel Prize in Physiology
Talking – New York
After leaving New Orleans, I went to New York. I visited the Xero offices, situated in a WeWork and spent time with the developers there. I met with Partner Consultant Brendan Corrigan and Partnership Sales Adam Foster. I had the opportunity to share with them insights from the Australia market, and hear what their experience was like working in the US market. I also meet with some of the product development team including Product Manager Anne Dehmer. The New York product development team, primarily sit in the payments and accounts payable space, think Bills, Payment solutions, and PayPal feeds, etc. It's exciting to be able to travel across to the other side of the world, and have the opportunity to hear directly from the team developing solutions, that local business in Brisbane and beyond benefit from.
One of my five goals for 2019 has been to talk with people who can influence the ability to build an easy way to reconcile clearing accounts in Xero. As more businesses connect with Accounting Apps, the Xero solution is utilising clearing accounts more than ever. Clearing accounts are also commonly used in tax, payroll, and suspense accounts, to name a few. To ensure the accuracy of our numbers, it's essential these clearing accounts are reconciled. Currently this is not easily achieved in Xero, and furthermore, I fear naively being overlooked by the end-user.
I was grateful to have the opportunity to explain the importance of being able to reconcile a clearing account, to the New York product team.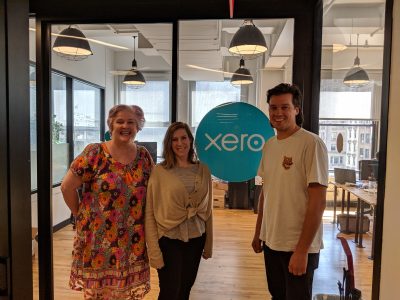 Thank you to everyone for your time, and special thanks to Catherine Walker for helping make this happen.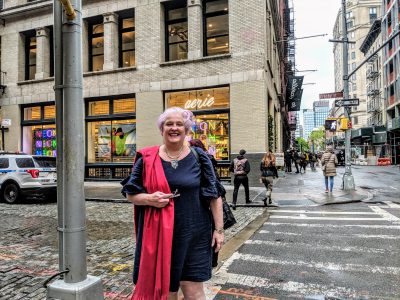 I spoke at an Accounting Technology and Intuit User MeetUp coordinated by Kelly Gonsalves of Totally Booked. The Accounting Technology MeetUp group describes itself as an environment for the curious number/data cruncher/technophile who want to explore the intersections between accounting, technology and entrepreneurship. It's similar to the MeetUp group I've facilitated in Brisbane for the last six years, so it felt like being at home, in New York. I  gave a 2-hour participated in a 2 hour Fireside Chat where I talked about the difference between Australian and the US accounting landscape and technology tools that accountants and bookkeepers can use to provide advisory services to their clients.  I wrote about the lead up to speaking at the event for the Flying Solo blog – you can read about it here.
"Do not go where the path may lead, go instead where there is no path and leave a trail" Ralph Waldo Emerson poet
There's so much we know about New York from pop culture: Central Park, the Empire State Building, Tiffany & Co, Fifth Avenue, Grand Central Terminal, Madison Square, Times Square, and the Brooklyn Bridge. I'd made a conscious decision not to visit the 9/11 memorial plaza, which commemorates the victims of the shocking and tragic terrorist attacks on the World Trade Centre in 2001.  As a young mother, I cried watching the footage. The magnitude of our concern about both what had happened, and what would happen as a result of these attacks, delayed us trying for our third child. I selfishly wanted to avoid dealing with the emotional cloud that may envelop me during my short time in New York.
On a sunny Spring day, I set out with Catherine to catch the free public Staten Island Ferry that runs between Lower Manhattan (think Wall Street, New York Stock Exchange, World Trade Centre) and Staten Island. The weather was glorious, and we enjoyed a stunning trip on the New York Harbour, with a perfect view of the United States icon of freedom, that's welcomed immigrants arriving from abroad since 1886, the Statue of Liberty.
We hopped off the ferry to explore the surrounding area. I didn't understand the geography of New York, I knew little of Staten Island, and while I was consciously avoiding the 9/11 Memorial Plaza, we realised "Postcards – The Staten Island September 11 Memorial" was a few hundred yards from the ferry terminal. We respectfully made our way to the outdoor memorial. You can see from the photo, it's two white marble wing sculptures, resembling angels wings, representing postcards to loved ones.
Standing between the centre of the wings you look across New York Harbour to an uninterrupted view of where the twin towers once stood, and where One World Trade Centre now stands.
I imagine the people on Staten Island that day must have felt a sense of helplessness and horror as they watched the devastation unfold across the harbour, so close, yet far away.
Inside the wings, are small granite plaques bearing the name and occupation of the Staten Island victims of the World Trade Centre attacks, according to wikipedia, including workers at WTC, police and firefighters. The plaques listed their occupations: Senior Accountant, Accounts Administrator, Tax Accountant, Audit Supervisor, Staff Accountant, Revenue Crimes Specialist. At that moment, it dawned on me, that this terrible event, had taken many lives from the accounting industry – with the deepest respect to everyone impacted by 9/11, it was possibly the most devastating terrorist attack the accounting industry has experienced.
There's a line in Macklemore's song Glorious:
I heard you die twice, once when they bury you in the grave
And the second time is the last time that somebody mentions your name.
It's probably silly but I took a photo, and carefully read the name of every single plaque of someone from our accounting industry.
Can you Ever Forgive Me?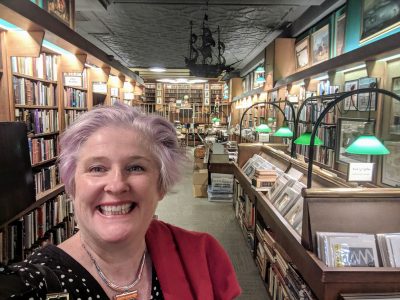 As a writer of books that sell in book stores, I'm always interested in both the survival of book stores and the placement of my book. I've been told, and I don't know how correct this is – that the USA does not have a lot of books stores.
I rarely saw any dedicated bookstores. When I did, I made an extra effort to visit.
On 116 East 59th Street, I noticed a magical quaint bookstore hidden amongst the towers of New York City: Argosy Book Store – Old & Rare Books.
I was on my way to meet up with a friend I'd not seen in 20 years Denise David. After a lovely catch – up I walked back to the bookstore.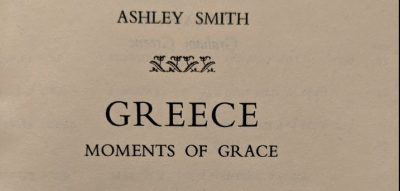 I went in and asked if I could take a photo.
"Yes, yes it is" was the confusing response
"What do you mean?" I asked.
"Yes the bookstore was in the movie "Can You Ever Forgive Me"
Yes! Now I recognised the store. Melissa McCarthy and Richard E Grant made an entrancing movie of the true story of Lee Israel, a lady who forged letters and sold them to book stores, such as this one.
Not the type of store that'd sell my cloud accounting books but to my delight it was selling my grandfather's books.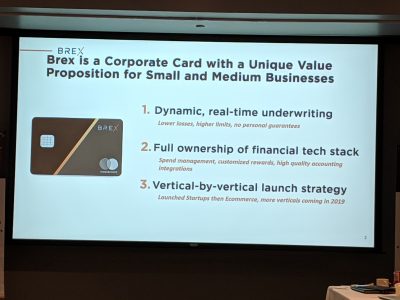 During Accounting Salon, Thomas Piani kindly presented me with a pre-loaded Brex card, a corporate credit card. It tickled me I was able to use modern payments to purchase my grandfather's book Greece Moments of Grace, published in 1948. (Not exactly a corporate expense – but very easy to use!)
Social Media impact while travelling
During my time away my social media stats soared, and I reached over 10K followers on both LinkedIn and Twitter, was listed in the top ten accountants globally, and all other areas of social media steadily grew. Someone suggested it was because I was posting across different time zones, I guess posting while the good accountants and bookkeepers of the USA were awake.