During May 2019 I am travelling across the USA, on a Listening, Learning and Talking tour of the USA. Don't worry I'm not planning to embellish my LinkedIn profile to read "International Speaker". I'm tickled pink to be here and soak in everything I possibly can, develop some deep connections of the landscape and in turn share it with the global accounting community.
Listening, and Learning in the USA.
As I travel I will update my observations.
I've noticed a lot of friction around the POS – the point of sale.
For payments I have Google Pay and a Credit Card. In Australia I primarily use Google Pay, and very rarely get out a Credit Card to make payment.
In the last few days I've been to Los Angeles, Atlanta, and now Houston. I have made small, under $100 purchases in all cities.
I've been able to use Google Pay once, and even though the payment was small, I needed to enter my pin number. In Australia I only need a pin number for payments over AU$100.
I've been asked to show ID, when using a credit card. (Can't remember the last time that happened)
I've been asked to sign for payment, perhaps this was so they could take a tip? Again, can't remember the last time this happened.
It may be that my credit cards are Australian, but they are ANZ travel cards with the main intention of being used for travelling.
The POS payments process is minutes, rather than seconds it would be for me in Australia.
Heather Smith Talking Tour of the USA
If you can come, please RSVP. If you know someone who might like to come, please forward this information to them.
Talking – Houston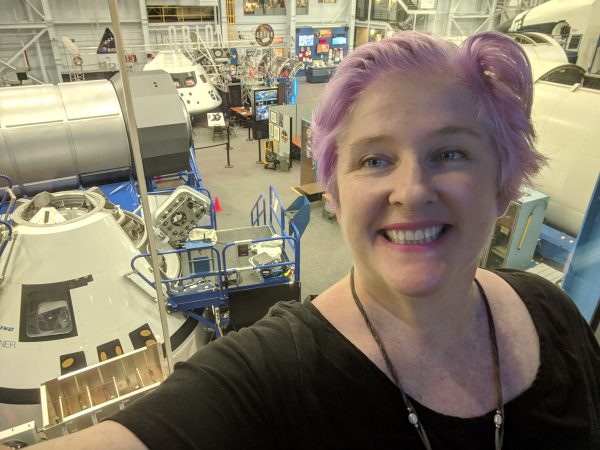 Leverage Cloud Accounting to empower your Accounting Practice
Event hosted by Houston CPA Society and Xero
Fri, May 3, 2019 7:30 AM – 9:30 AM CDT
Join us for breakfast and an informative chat about the Cloud ! RSVP here: https://www.eventbrite.com/e/leverage-cloud-accounting-to-empower-your-accounting-practice-registration-53752398872
Many thanks to Jackeline Velez, Bjorn Monsson, Brad Gustafso, Daniel Gallagher and AICPA for organising this event.
I was fortunate to tour the Houston Space Centre. I saw an alligator on the bus tour of the NASA campus – just sitting in the creek doing what alligators do. I also spotted the inspirational quotes I've used in this post, on the displays walls.
"Imagination will often carry us to worlds that never were. But without it, we go nowhere." Carl Sagan, astrophysicist
Talking – New Orleans
I am giving a joint presentation on the Global Accounting landscape with Rachel Fisch. Rachel is waving the Canadian flag, while of course I shall wave the Aussie flag. I have 30 minutes, 40 slides, and want to simultaneously teach the cohort the Tim Tam Slam – totally doable – right!?
I was invited to join the Accounting Salon cohort, a gathering of 37. I personally feel attending an intimate event with 37 people would be less overwhelming than a monster conference.
I'm also looking forward to meeting people in real life, that I have connected with over the internet for many years. I hope to connect with people I can learn from.
Many thanks to Amanda Aguillard and David Leary and everyone else who has contributed to organising this event.
"Discovery consists of seeing what everybody has seen and thinking what nobody has thought" Albert von Szent Gyorgy, physiologist, recipient of 1937 Nobel Prize in Physiology
Talking – New York
Fireside Chat with Heather Smith
Tuesday, May 14, 2019 6:00 PM to 8:00 PM
RSVP here https://www.meetup.com/AccountingTechnology/events/260905505/
Many thanks to Kelly Gonsalves of Totally Booked for organising this event.
"Do not go where the path may lead, go instead where there is no path and leave a trail" Ralph Waldo Emerson poet