Within the Accounting Industry we're constantly bombarded with news about AI, or Artificial Intelligence; are we optimally using it, or will the robots take over our jobs? To get some balance and perspective on the topic, I scan how AI is weaving its way into other industries, such as the Marketing Industry. Are Marketing people worried robots are replacing them?
Here's a list of a number of marketing solutions leveraging AI. Some of them use it throughout their platform, others simply use it within some features. I use the first one on the list – rasa.io to create my newsletter, and it's been a game changer for me. Which left me wondering what other solutions I as a micro business could potentially use.
At this point in time, I've just visited websites and collated information. I did have a quick go at the Market Muse free analysis, and I plan to try Pattern 89, before placing another FaceBook add. I think some seem to be aimed at the high end of town. I shall bookmark to explore some more.
Affiliate links are included below – if you click on them I may receive remuneration of sorts from the company. If you don't wish this to happen, simply don't click through on them.
Rasa.io  – Make Your Newsletter Smart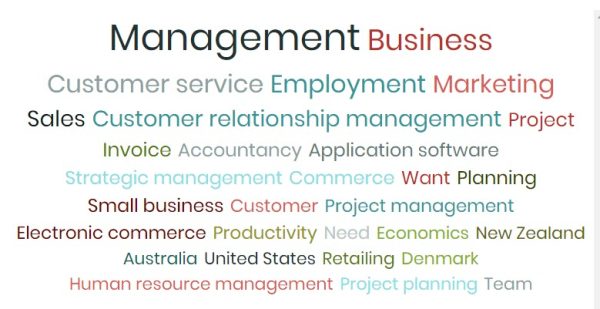 The Rasa platform sends a personalised newsletter based on individual interests and behavior. This newsletter is suited to a specialised topic – such as an Association that may specialise in something – such as Coffee)
The Newsletter, Reinvented. Reach your subscribers on a regular basis, in a personalized way, and dramatically increase engagement. Send a Smart Newsletter that is tailored to your subscribers' unique interests and personalities, without the time it takes to manually curate your emails. rasa.io makes cutting edge AI available to everyone, allowing organizations of all sizes to interact with their subscribers regularly and be the number one resource their audience uses to stay on top of industry trends.
I personally use and love this solution. I curate content (my focus area is Accounting Apps), and the AI selects bespoke content for individual interests.  It's made a massive impact on the newsletter I generate. I can spend more time curating content, and minimal time creating a newsletter. My open and click through rates are well above industry average, and I receive a newsletter I enjoy reading. I also get a lot of positive feedback. On the right is a snapshot of popular words clicked on last month.
To experience the bespoke nature of the AI you can sign up to my Accounting Apps newsletter here: to experience it for yourself: http://HeatherSmithAU.com
MeetEdgar – a Social Media Management Tool
MeetEdgar makes it easy to schedule and automate your content on Facebook, Twitter, Instagram (not android), and LinkedIn! Includes writing posts for you (seriously) to re-posting evergreen content, Edgar.
I use the solution, and I like it because it stores a library of content that can push out randomly over a defined content calendar. Some information in the accounting world is evergreen, and it is appropriate to reshare it. 
Here is a suggestion on when I should schedule content – I'm not sure if they are analysing my data or the universes data to tell me this. The suggestions change regularly.

Here's another neat feature of MeetEdgar which saves me a few minutes thinking time.  I post a link – as you can see in the top box – and I click the Auto-generate variations. It reads through the article and surfaces what it thinks are key points in the article – and suggests four additional variations, see them in the box below.  I can jump in and edit them. Typically one will be a bit naff, but the others are perfect for social media. I can then direct them to go out on a social media platform.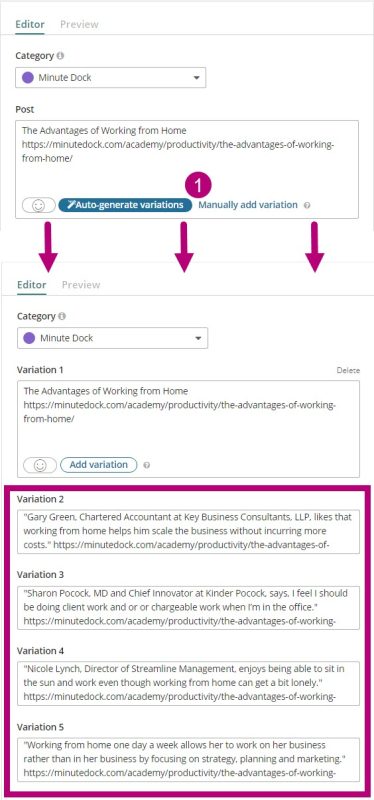 BrightEdge
– real-time research, recommendations, and rankings–for SEO in a unified platform.
Backlinks – Search engines leverage backlinking factor to grade the relevance and authority of websites. BrightEdge provides page-level backlink recommendations based on the top-10 ranking pages on the SERP, which helps you to identify authoritative and toxic links. Using artificial intelligence, BrightEdge Insights automatically surfaces authoritative backlinks recently acquired by you or new competitive backlinks for you to target. (this seemed to be the only feature using AI)
Concured
– Content Marketing Artificial Intelligence
AI powered Content Strategy Platform (CSP) that guides the ultimate strategy that will beat competitors, save hours, harmonise teams and prove ROI. Concured provides you with the content engagement sweet spot telling you exactly what to write about that will cut through the noise, fill your knowledge gaps, resonate with your audience and increase ROI whilst reducing content waste.
Crayon
– Market and competitive intelligence platform
Capture, analyze, and act on everything happening outside of the four walls of your business. 360 Degree View of Your Competitors. Track a company's complete digital footprint, both on and off their website, from social media to review sites to app stores and beyond. Catch subtle changes to a competitor's website or the latest customer discussion thread. (This sounds a bit creepy – and I don't think I would use it – stay in your own lane and focus on what you are doing)
Marketmuse
– Content Intelligence
The AI Content Intelligence and Strategy Platform that transforms how you research, plan and craft your content. Powerful applications to craft expert content. The MarketMuse Suite features a robust set of workflow specific applications that provides every member of the team with the data they need to plan, analyze, create, optimize, and assess best-in-class content on a granular level.
Pathfactory
– Powering content insight and activation
PathFactory's Content Insight and Activation Engine leverages AI, fueled by the complete consumption history of your buyers as well as the metadata on what the content is really about. Much like Netflix and Amazon, our Engine uses this data to automatically curate micro-personalized journeys that are unique to each buyer.
Vennli – Content recommendations that work.
A content intelligence, customer choice visualization, & analytics platform. We gather real-time insights about what's most important to customers and why they choose you vs. your competition. Then we visualize data in an intuitive way that quickly leads to content aligned with customer needs. Harness the power of customer data and artificial intelligence to give you content recommendations that work.
Persado
– 
unlocks the power of words, the foundational DNA of marketing
Persado's revolutionary Message Machine leverages the world's most comprehensive marketing language knowledge base of over one million words and phrases, powered by AI and data science. Persado unlocks the power of words to engage consumers like never before, one by one, moment by moment, across every marketing channel, driving improvements in brand engagement and revenue performance.
Pattern 89 – AI to improve Facebook, Instagram and Google ads.
Pattern89 is marketing AI for Facebook, Instagram and Google ads. It is artificial intelligence for paid digital media that maximizes ROI, reduces costs, and enhances creative performance… With a click, it saves you money and hours every week.💰⏰ Get a free AI scorecard: https://bit.ly/2Uc51ay 📈
Thanks to Mike Rhodes of WebSavvy.com.au who shared many of these solutions with me.