Today I'm sharing with you a panel discussion on the topic: How to Kickstart the Digitalisation of Your Practice in 2021. This session was produced by the Accounting and Finance Show, as part of the Digital Practice Summit Asia 2021. 
Our expert panellists were all based in Singapore, and all at different stages of their modernisation journey. I think it's useful for us to hear different insights and experiences to help us on our journey.
The panellists included:
Charles Chen, Partner, Charles and Partners

Mirah Agus , Beaufort Corp., Founder & Managing Director, Beaufort Tax Consultants Pte Ltd

Elaine Lim, Director, Agere Accounting & Advisory Pte Ltd
The session initially starts with an introduction from Laura Binns, Project Director at Terrapin, the conference organisers she hands over to me as host. I won't talk too much about it now, as I think our joint introductions are quite comprehensive.
Terrapinn is a global events company promoting innovation and technology. I encourage you to google them and register for any upcoming events that may be of interest to you. As many are currently running virtually, you have the opportunity to attend their global events!
The session explored: 
Learn how to fix a car engine while it's driving at 80 km/h on the ECP (in other words how to release capacity, and implement digital changes in an operating business)

How to approach developing a digitalisation implementation plan

How to engage your team to embrace change, and be involved in the digitalisation journey

Practical Tips and tricks for a smooth transition, and how to deal with the challenges

A few examples of technology modern practices are currently using
Access the Accounting and Finance Show here: https://app.swapcard.com/event/digital-practice-summit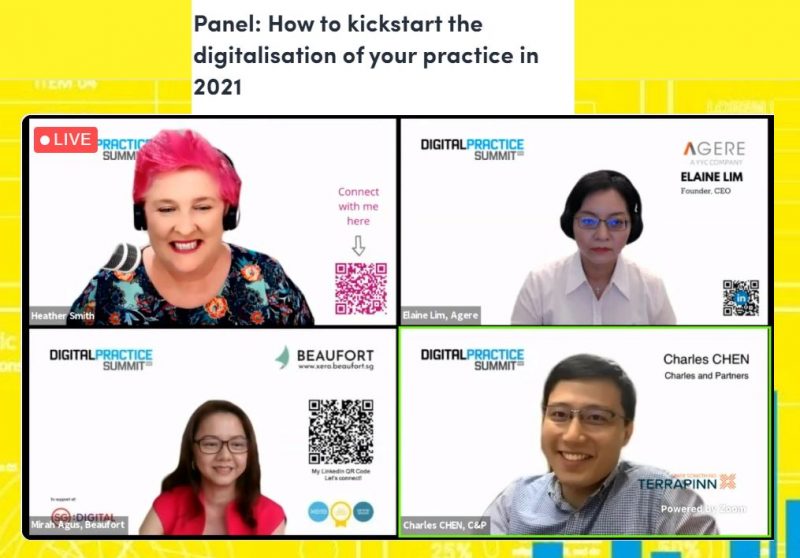 Join the smartest who get the bi-weekly Accounting Apps updates
"*" indicates required fields