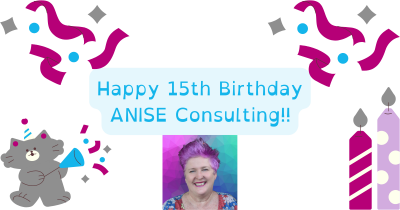 Today I celebrate 15 years in business.
How do you celebrate your business birthday?
It's a milestone I've never really given much thought to.
I'm quite puzzled how I even started a business on the 7th of December; it seems like an odd day to start a business. Don't you think?
Before creating my business, I'd never worked in a practice or business like the one I created. Instead, I designed a business that fits around my family, my lifestyle and my love of accounting and writing.
Before I commenced, I took two weeks to write a comprehensive business plan, and like many things in my life, I took it a step further and wrote a book on business planning (my 2nd published book). 
My early days were full-day Accounting and Small Business classroom training sessions. I dreamt of being on the stage and speaking at conferences. I studied the best, spent hundreds of hours in public speaker training, and am thankful the hard work paid off.
I've gone from a cramped kitchen table to a space in a large hallway, to a dedicated home office, with a standing desk! My business fits in my handbag, and I travel extensively and work with clients worldwide.
I am grateful to everyone I've met, who has supported me, and who I've been able to help on my journey. We've accomplished a lot together, Thank you.