It's been 19 years this month since I took the leap and registered as a sole trader.
Back then, I positioned myself to offer top-notch training in the Microsoft suite, Small Business subjects (including accounting of course!), and my specialty that brought in the big bucks: MYOB training.
At the start of each month, I'd email relevant contacts a simple table listing availability. This proved to be super effective!!
I'd worked hard to become an experienced certified trainer in popular and in-demand business subjects. My professionalism and reliability, combined with nourishing an extensive network, paid off and miraculously I was rewarded with interesting gigs all over Brisbane. The best part? The variety! I loved that I could arrive, use my brain and skills, and not get bogged down in office politics.
I was doing gig work before it was even a known phenomenon, before Freelancer.com, Upwork or Fiverr.

This would be my tech stack if I was to do it again: I'd gather and maintain the useful and relevant details of my network in Google Contacts. I'd use the labels functionality to email a group of Contacts via GMail. I'd set myself up on Calendly, linked to a payment gateway (I use Stripe), and Google Calendar. I'd use the newsletter solution MailChimp to email my network with my availability, and booking links. As well as onsite CBD training, I'd extend my offerings to online training.
Of those solutions, only MailChimp existed when I started out. It was founded in 2001, and I started using it in May 2011. Reflecting on this, if I was not filling my calendar, MailChimp would have been a brilliant tool for mass emailing my network and letting them know what I was doing.
Hopefully, that tech stack is useful for people wanting to offer online training as a service.
Here's the only photo I can find of 'just me' in 2004. We'd bought the cheapest house in a nice neighbourhood, and I'm excited to show off the house's features, the high ceiling and the cornicing. While my children were my number one priority, I needed to work to pay bills (and obviously get those walls re-painted sunflower yellow!). I set myself up as a sole trader, so I could work flexible hours around their needs. My empire started on an uncomfortable wooden table under that air-conditioner. I learnt to block out family noises and work when any moments availed themselves to me. I foolishly kept my expenses in a plastic shopping bag (we don't even have those now!!), which was accidentally thrown away, and I needed a tax ruling to claim them.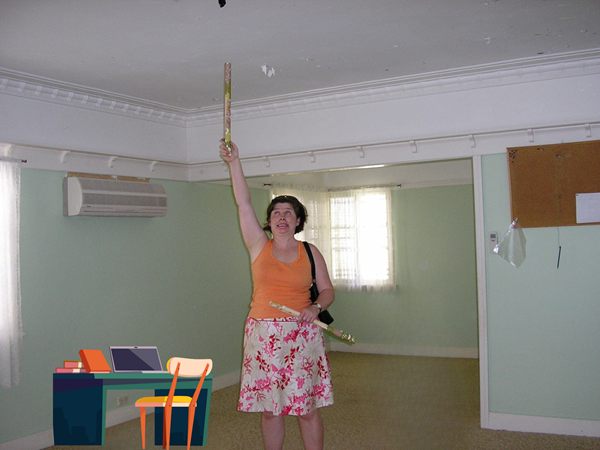 I ended up sharing my learnings in a book I wrote, "How to Start a Business in 7 Days," which you can still find at the local library.
I can't believe it's been 19 years. I had no idea what I was doing, I just kept moving forward. I stayed away from compliance deadlines and focused on training, which you can turn on and turn off. This made it a great lifestyle business to create around raising my kids and juggling sports carnivals, music festivals and mum's taxi duties.
I guess now that I'm a bit older, and wiser, and entered a few awards that I've won and lost, I recognise the importance of reflecting on your own milestones and celebrating your own wins. I encourage you to add your business registration dates to your calendar as an annual reminder – so you can celebrate this milestone!
Here's what my website would end up looking like in 2006 a few years later – it was purple and lime green – the MYOB colours then.