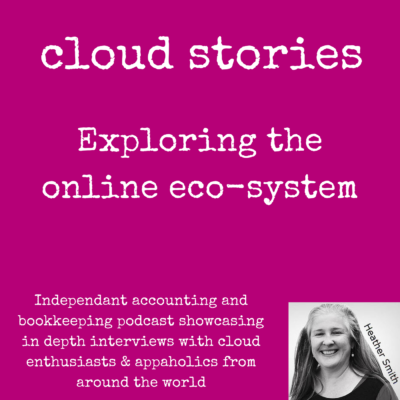 "Cloud Stories is the world's coolest accounting podcast" A guy on the Internet told me this once, and I choose to believe him!
The Cloud Stories podcast explores how business solutions integrate with online accounting software (Xero, MYOB and or QBO), and can, in turn, automate processes and improve productivity and profitability. By sharing Cloud Stories from the community listeners gain insights into how small businesses and advisory services can thrive in a brave new world of artificial intelligence, machine learning, and robots.
Over the years, Heather Smith has interviewed Accountants • Bookkeepers • Business Consultants • Cloud Advisors • Cloud Integrators • Developers • Small Business Owners • and Solution Providers • who have generously shared their own Cloud Story on the popular podcast.
Do you have a story that would be of interest to the Cloud Stories podcast community? What makes your story interesting? Why would people interested in technology and automation learn from your Cloud Story?
If you're interested in being a guest on the show I suggest you listen to some past episodes (just search for Cloud Stories on your podcast device) – so you understand the vibe of the podcast. If you think you are a good fit for the Cloud Stories community, please complete the Podcast Pitch explaining why:
Please note: Some marked sections below will be cut and paste and published as is when the final podcast is released. Please ensure submitted text, is coherent, and typo-free!