With so many different app solutions available to us – it is overwhelming and time-consuming to understand their nuances – when they can be used and how they can help our clients and us.
Expensify has just started to hit the radar here in Australia. However, it's been around for a while … In 2008 we were watching Heath Ledger in The Dark Knight, The Veronica's were singing Untouched, Kate Ritchie left Home and Away after 20 years, the Apple iPhone is released in Australia, and the travel and expense web and mobile application Expensify was founded by David Barrett in the U.S.A.
I don't quite understand how someone could even envisage the concepts of apps before the arrival of the iPhone. Certainly, a forward-thinking innovative solution.
Maybe you're like me, and as soon as you heard the name Expensify, you thought it must be a direct competitor to the much-loved bills and expense scanning solution Receipt Bank. But I've come to realise they are in fact quite different and complementary solutions. So different and complementary that I have clients using both of them simultaneously!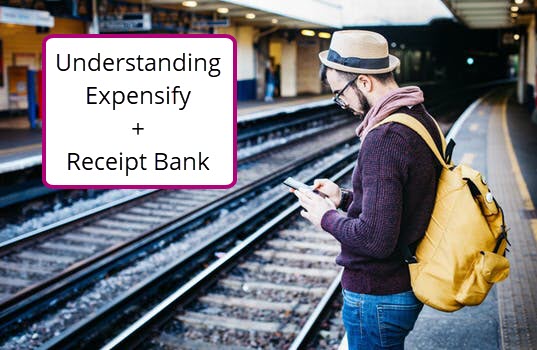 Receipt Bank is an app that enables clients to snap their items, email them in, or upload receipts and invoices directly. The technology quickly scans, extracts and organises key information from all your invoices, receipts and utility bills.  It includes the ability to prepare expense reports, from expense claims.
Expensify is a travel and expense web and mobile app for personal and business use. It streamlines the capture of all expense related claims. This includes extracting relevant information from receipts, mileage tracking using an inbuilt GPS, time tracking and calculating Per Diems, and organising them into a single expense claim. It even reads travel itineraries and creates a handy list of upcoming trips.
Receipt Bank and Expensify both produce Expense Reports
Both solutions have the capability of capturing expense claims and generating expense reports. Additional details that can be added at the scanning stage include; client, two tracking options, and a short comment. Expensify lets you define whether the expense claim is billable or reimbursable. The expense claims cumulate into an expense report, which can push across into Xero, MYOB and/or QBO solutions. Both options include all the details the ATO requires, plus include copies of the original source document attached.
Differences in the workflow of Expensify and Receipt Bank
Key distinctions in the solutions are around how the approval process and the credit card feed work
Approval Process
Expensify offers practically every approval option within a workflow a business could want. At a very hands-off level, where approval is not necessary, opt for the simple option which closes the Expense Report and pushes it through to Xero, once submitted. Where something more advanced is required, such as a large company with several management levels – think Uber, the Point of Sale solution Vend, the cash flow reporting solution Float or the rostering and payroll solution Deputy, multiple approval policies can be defined which incorporate approval by workflow, by manager hierarchy, dollar value, and/or project specifications.
An Expense Report created in Receipt Bank and can be flagged, and sent across to Xero as a draft bill, indicating that it requires approval. The approval within Xero can be done by any User with at a minimum access to the Purchases dashboard.
Credit Card Feed
The credit card feed flows through Expensify every 24 hours and individual items are reconciled in Expensify. The credit card feeds are not set up or activated in Xero, reducing the number of contacts and transactions flowing through Xero.
No credit cards are set up in Receipt Bank. The credit card feeds are set up and activated in Xero, and transactions are reconciled in Xero.
Expensify offers some additional features
Mileage
Expensify gives you the option to track mileage via distance, odometer and the mobile app has an inbuilt GPS. Once mileage rates are defined at a business or individual level, the business kilometres expense can be tracked and populate the expense report accordingly.
Per Diem
Isn't is strange how some Latin words fall naturally into our vocabulary, and we know what they mean, and we don't use the English translation? 'Per Diem' translates to 'per day', and it's a daily allowance, typically a specific amount of money given to an employee. Within Expensify, a single rate, Project/ Client or Geographical per diem or per diem limit can be defined, by rate and/or currency.  The employee selects the Per Diem, and it automatically calculates and populates on the Expense Report.
Time
An hourly rate can be set, and time can be recorded and tagged to tracking categories and a customer. Straightforward time tracking can be achieved within the app. For complex time tracking scenarios simply connect Expensify to Tsheets the employee time-tracking and scheduling software.
Note: Expenses tracked via Mileage, Per Diem, or Time can be defined as billable and/or reimbursable in Expensify.
Travel Itineraries
Expensify helps organise your travel plans. Travel and itinerary documents can be forwarded to Receipts@Expensify.com. The details are extracted and appear on your Trips dashboard screen on the Expensify app.
Uber
Expensify can link directly with an Uber account, and relevant bills push directly into Expensify. Once connected, when booking the Uber the User opts for business or personal travel, and the expense is treated accordingly. It takes a few minutes to set up, streamlines your record keeping and helps distinguish between personal and business expense at the time of booking the Uber.
As a user of both Expensify and Receipt Bank, I would agree they are very similar but also very different. In my mind, Expensify is more geared to the larger organisations for 4 main reasons 1) they have many budget owners who "need" to sign off on expenses <sigh> 2) they have strict policies – they want an application where they can input their policy rules and automatically check of violations – which Internal Audit teams can monitor (big bruv) 3) Travel Itineraries – larger firms have dedicated travel teams that book flights and hotels, so an application that can hold this information is great for the company and the individual 4) Reporting – Expensify can hold heaps of information from which hotels was used the most or how much was spent on flights etc. From a management perspective this is a gold mine. They can go and get big discounts with hotels/airlines because they have the data to show. Giles Wilson, Linson Business Consulting
Summary
Understanding some of these nuances, hopefully, gives you a clearer idea of when and where you can recommend these solutions to a client.
Receipt Bank is a solution suited to every small to medium sized organisation processing bills and expenses.
Expensify is a solution for every organisation that has anyone generating receipts, whether personal and then wants to reconcile those transactions, no matter the complexity. It avoids the messy and tedious process of generating and reconciling employee Expense Reports.
Both solutions are easy to use, streamline and automate workflow, improve productivity, assist in the management of cash flow and link seamlessly with Xero, MYOB and/or QBO solutions.